Lifelong friends, and colleagues, Nico Rhodes, and Patrick Courtin, shocked and appalled by the realization that piano just isn't cool anymore, set off on a divine quest to redeem the keyboard and reinstate its reputation as the greatest instrument of ALL TIME! Armed with the music of the greatest composers, songwriters and performers of the past 300 years, and the technology of the 21st century – their virtual orchestra (Doug), Nico and Patrick deliver everything from classical piano raptures to bombastic boogie woogie, from romantic piano ballads to 80's keyboard synth battles in their show Piano Heist! What ensues is a mishmash of theatrical wonder, comedy, audience participation, heartfelt stories, a pinch of history, and a world of musical madness.
What audiences are saying about the show:
"Awesome, awesome, awesome. A wonderful performance by both Patrick Courtin and Nico Rhodes…they are phenomenal musicians, but they're also phenomenal showmen. Comedy is sharp, hilarity ensues – they even dance! Don't miss this gem
of a performance!" –  RS  | Hope, BC
"Piano Heist was a delightful evening of innovation, comedy and a creative history of piano tunes wrapped in a feelgood presentation… a musical extravaganza by two young men with endless talent… Wow! Two hours of familiar music, delivered in dynamic formats and good humour, even the audience could not help but participate." – SK | Hope, BC
"Loved every minute of it. Big heartfelt thanks for a fantastic evening" – LH | Nanaimo, BC
"A very enjoyable evening…If you ever get to see or hear these two it is worth your time and money, at some points, I was laughing so hard I was crying!" – HW | Cedar, BC
"Amazing show! Laughed and smiled so much our jaws are sore! So much fun, thank you!!" – Parksville, BC
"Musical expertise beyond compare, humourous antics, audience participation, great selection of songs spanning 300 years! Patrick and Nico are such endearing performers who know how to deliver to an audience of any age or musical taste. A must-see show." – MB | Nanaimo, BC
"Piano Heist: Pianistic virtuosity, wide variety of styles, lots of fun and laughs, multiple standing ovations" – DS | Victoria, B.C.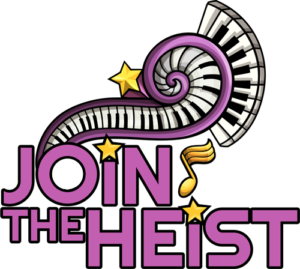 Receive all the latest and greatest
updates and news from Piano Heist
directly to your inbox.
Join the Fan Club... Join the Heist!